02 Jul

"Ajde!" Two Big Thumbs Up!

This was a pleasant surprise to see. I mean, seriously. One doesn't come across such great creativity everyday. Zuzanna Szyszak creates tennis and animated magic. "Ajde" a story of a young Serbian boy who dreams of becoming the best tennis player in the world by winning Wimbledon. This short films Serbian title which translates to "Come On!" is actually dedicated to Novac Djokovic. I really hope he gets to watch this beautiful tribute.

There's not one word spoken other than the announcers voice-overs. Music Samuel Tsang perfectly mirrors the mood appropriately for each scene. I would recommend this to not only tennis fans but anyone who's a fan of a good story. What are you waiting for?! Scroll down and watch!

"Ajde!" The Movie from Zuzanna Szyszak on Vimeo.

Oh the Feels!!!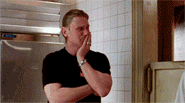 Great job Zuzanna and Samuel!
EDIT: Djokovic has seen this video and tweeted; "I am beyond words after watching this: http://www.ajdethemovie.com . Very honored and humbled by your work of art. Well done! @Zuzanna_Szyszak"